Lloyd The Dog
Karen's Good Morning Dog
Sunday, August 26, 2007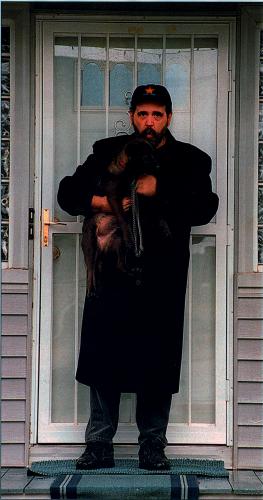 Karen and I are not inherently happy people. How could we be in this world? We have both spent much of our lives speaking for the unspoken for and to do so, we must know the stories of the previously, or at least generally, unrepresented.
For years Karen represented victims of domestic violence and child abuse. In my world I am forever looking at things from the points of view of people crushed and heartbroken by circumstance and injustice. It can make life rather heavy and at times, almost bitter.
I don't need to overstate this. Karen and I aren't gloomy people. We are optimists because we believe enough to care. We have wonderful friends and enjoy life, such as it is. But we feel the specific gravity of this life. And when something or someone lightens it, we notice and we are grateful.
Lloyd the Dog made us happy every single day he was with us. Right up until the end. He brought us joy that we wanted to share, we wanted others to feel. And so many, many others got to meet Lloyd. And without exception, our sweet, smart and funny boy infected those he met with happiness.
It is tremendously difficult to lose such happiness -- especially when the loss is due to swift and irreversible tragedy. Karen and I had begun preparing to make sure Lloyd's extended old age was as pleasant as possible. We needed those years to return all the love he gave us. We got seventeen days instead. We did all we could in that time and in keeping with his extraordinary spirit, so did Lloyd. Understanding now how awfully sick he was, his joyous behavior was his final completely unselfish act of generosity.
But now he is gone and so is our happiness. We spoke of him all day yesterday and held each other as we sobbed uncontrollably. We didn't eat. We were exhausted from having spent Lloyd's last night of life comforting him and trying to figure out what to do. Finally sleep came and then we awoke, without the one Karen always called "my Good Morning Dog" as she patted him on the head and hugged him before lovingly preparing his breakfast and giving him fresh water in a clean bowl. As the day began I'd make some contact with both of them but since most mornings Karen had to go to work, I stayed in the background because I knew Lloyd and I had the entire day together. Often when I hugged Karen, Lloyd would jump up, a paw on each of us and Karen and I would laugh and wrap an arm apiece around him, feeling like this bliss would never end.
There is no bliss this morning. I'm sure that with time, his shining spirit will manufacture brighter and brighter memories. Today, even the happy memories make us weep. We miss you and love you so much, our darling boy.