political satirist Barry Crimmins
Out in the cold
Saturday, January 5, 2008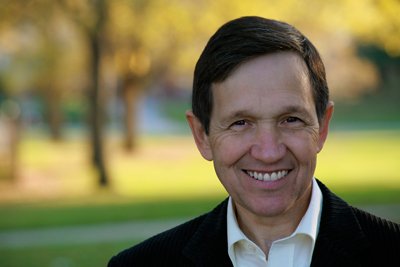 This probably helps no one but me and nothing but my conscience but I'd like to go on the record to express my disgust with ABC News for excluding Congressman Dennis Kucinich from tonight's debate in New Hampshire.
If the other candidates have any brains or decency they will make a point of denouncing this undemocratic act of censorship before they say anything else tonight. (I'm not holding my breath.)
To quote from a Kucinich press release:
Yesterday, the Kucinich for President Campaign filed an emergency complaint with the Federal Communications Commission claiming that the ABC television network is violating its obligation to operate in the public interest by excluding Ohio Democratic Congressman Dennis Kucinich from tonight's scheduled debate in Manchester, NH. The filing points out that Kucinich is the only Democratic presidential candidate who has qualified for Federal matching funds who is being excluded by ABC. Further, the complaint charges, the televised event is not a true presidential primary debate without including all credible candidates, but instead is effectively an endorsement of the candidates selected by ABC.

Besides fighting this in court, we are fighting on the airwaves by purchasing TV and radio time.

Supporters will also be gathering outside the location of the debate in Manchester, New Hampshire tonight to hear Dennis speak. But he should be inside at the debate.
To learn more about the views ABC has chosen to exclude, please
click here.