political satirist Barry Crimmins
The Gipper still tearing up turf!
Thursday, October 11, 2007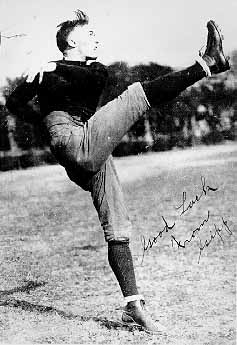 Inspired by the rhetoric of the Republican presidential debates,
relatives of Notre Dame football legend George Gipp had his remains exhumed yesterday.
Despite a bidding war between the Romney and Giuliani camps, the remains were returned to Gipp's burial plot after DNA testing but before they could be used in any campaign commercials.
Up until that point Romney was favored to get the Gipper's endorsement because Gipp family members felt Giuliani was already exploiting enough dead people with his candidacy.
Graveside observers said that judging by the Gipper's appearance, the six feet of dirt that covered him were the toughest two yards of real estate he ever negotiated.
Gipp made only one brief statement after an 87 year internment, "Put me back in, Coach!"
The Gipper
was exhumed for a very short period -- there was barely time for one UAW strike while he was out of the ground.
A movie about the exhumation is planned and will star the late Ronald Reagan.
The film's producers have yet to secure Pat O'Brien's remains for the project that's tentatively titled "Coffin-Cornered."
The exhumation went so well that Notre Dame officials are considering performing one on the current Fighting Irish squad.
No reason has been given for the exhumation although many theories are churning the rumor mill, including:
Gipp's name has been linked to the Balco steroid scandal and so he was exhumed to appear before a congressional committee where could be relied upon to be a better witness than either Rafael Palmeiro or Mark MGwire.
George Steinbrenner was hoping to lure Gipp away from death to take over as the New York Yankees field manager next year.
Gipp will be joining several other notable corpses in a new reality series called
Extreme Lazurus.